BAUMTRAUM : exhibition overview
first drafts for exhibits
experience new perspectives in the woodpeckers nest
experience new perspectives in the woodpeckers nest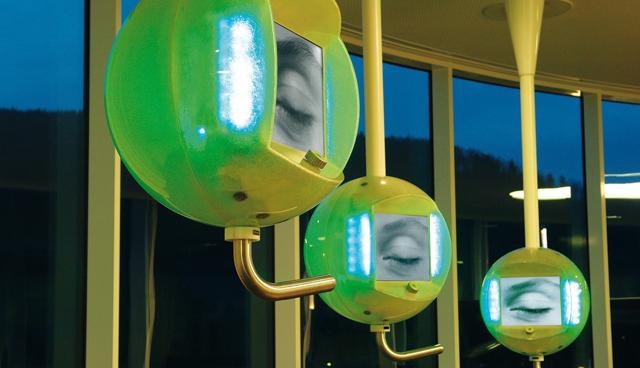 Augmented Reality : explore interesting spots in the park through EYE-APPLES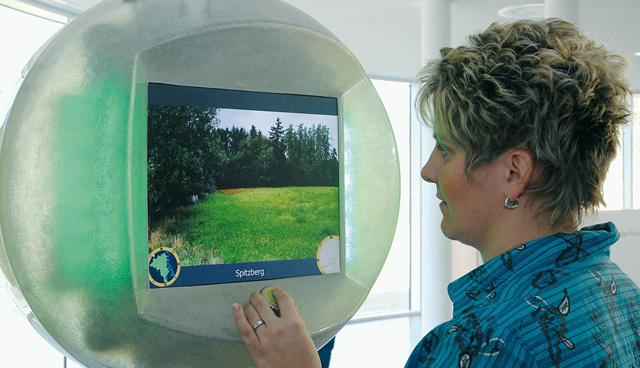 Augmented Reality : explore interesting spots in the park through EYE-APPLES
Move the KNOTHOLE and see what´s living under the bark of the trees
take a look into molehills: BLICKWÜRFE showing the park from a birds view
take a look into molehills: BLICKWÜRFE showing the park from a birds view
the DEERPASS informs about different terrains

Exhibition concept :: BAUMTRAUM :: national park Kellerwald Edersee, D

As an associate of KRAFTWERK Living Technologies GmbH (a)iBerg gives fascinating insights into the themes of the National Park through a new concept of the interplay of perspectives. Copying nature was consciously avoided. The aim in fact was to break with the viewers' expectations in order to gain even more attention. Surprising objects, earth hills with giving a perspective on the world or eyeballs with 360° views offer exciting information about habitats, animals, natural cycles and much more.
Four successive rotundas, comparable to an emotional portal, lead to the exhibits. In a lovingly created multimedia setting visitors meet the primordial treasures of the wilderness: the air with its play of butterflies, the rock acclivity, the energetic water and the beech trees themselves.
concept: Bernd Aichberger & Markus Beyr
execution & project managment: Stefan Rozporka
CI, text & images: Cognitio
general contractor: Kraftwerk Living Technolgies GmbH
Konzept der Ausstellung :: BAUMTRAUM :: Nationalpark Kellerwald Edersee, D

Mit konzeptionell neuartigem Perspektivenspiel schafft (a)iBerg als Mitarbeiter von KRAFTWERK Living Technologies GmbH faszinierende Einblicke in die Themen des Nationalparks. Bewusst wurde auf ein Kopieren der Natur verzichtet. Ziel war es vielmehr, die Erwartungshaltungen der Besucher zu brechen, um eine noch größere Aufmerksamkeit zu bewirken. Überraschende Objekte, Erdhügel mit Weltperspektive oder Augäpfel mit 360°-Ausblicken, bieten den Neugierigen spannende Informationen über Lebensräume, Lebewesen, zeitliche Abläufe und vieles mehr. 
Zu den Exponaten führen, einem emotionalen Portal gleich, vier aufeinanderfolgende Rotunden. Multimedial liebevoll inszeniert begegnen die Besucher den Urschätzen der Wildnis: die Luft mit ihrem Spiel aus Schmetterlingen, die Felsenhalden, das energetische Wasser und die Buchen selbst.